featured photographs
---
A trooper with an M-60 machine gun on his shoulder stands in front of a burning village. Soldiers from C Co., 1st Battalion, 8th Cavalry Regiment, 1st Cavalry Division, set fire to the village on the Bong Son plain during Operation Pershing. The night before they had been in a firefight at the village. As the soldiers approached in the morning they tripped mines. Three soldiers were wounded and one was killed.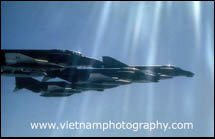 Air Force F-4 Phantom jets flying in formation over South Vietnam in 1966.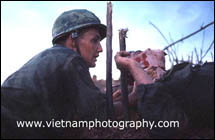 Navy corpsman Dave Boucher treats Pvt. William Vizzerra, 21, Phoenix, Ariz., near the crest of Hill 881 N. The Hill was one of several strategically important hills surrounding Khe Sahn in western Quang Tri Province in Vietnam's I Corps. The fighting between the Marines and North Vietnamese Army (NVA) regulars took place on April 30, 1967.


picture story
---


Burning Village
On Feb. 20, 1967, troopers from the 1st Cavalry Division burned a village on the Bong Son Plain in central Vietnam after one of the soldiers was killed by a booby trap. For more images, click here.




Hill 881
On April 30, 1967, Marines finally took Hill 881 near the demilitarized zone in Vietnam. At the time, it was the war's bloodiest battle. For more images, click here.





Ambush
On Feb. 14, 1967, a squad from the 1st Cavalry Division was ambushed on the Bong Son Plain. For more images, click here.



Robert Hodierne, certain that the war in Vietnam would blow over before he could finish college,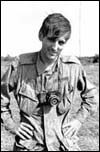 dropped out in 1966 and went to Saigon to work as a freelance photographer, a stringer in the terms of the day. He stayed until the summer of 1967. After finishing college, he returned again in early 1969 and left in the spring of 1970.

He covered the war from the DMZ in the north to the Mekong Delta in the south, from the Central Highlands to the coastal plains. He photographed soldiers, sailors, Marines, airmen and Vietnamese civilians caught up in the war. After Vietnam, Hodierne gave up photography for reporting and editing.

A full resume can be seen at www.hodierne.com.
---
view lightbox
---
Register here so you can take full advantage of this site's features, including the lightbox. You will have to register to order photographs.
---
Look here for the terms and conditions and ordering instructions.
---
Art prints for non-commercial use are available here.
---
Do you need to get your portfolio where millions of people can see it? Cut out the middleman - your profits should remain yours.